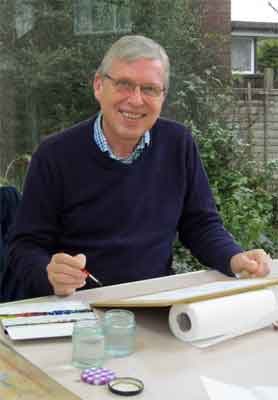 About the Artist - Stuart Thompson
After a career in Marketing, latterly in the marine industry, I have now retired and pursue a number of my interests, including web design and watercolour painting.
I have lived in Emsworth for over twenty years, and in that time I have become a keen sailor. I own both a Cornish Shrimper and a Scow dinghy, and am a member of Emsworth Sailing Club.
My love of Emsworth has led me to try and share my enthusiasm for the place with anyone I can get to listen. In 2010 I launched a website dedicated to walking around Emsworth; www.emsworthwalks.org, which incorporated a number of my watercolour paintings.
I learned to paint watercolours in 2009 at Southdown College, and have continued to learn more, and improve my work since then through classes and workshops at The Spring in Havant and privately with Heather Gray-Newton. Today I am a member of the Emsworth Art Group.
My inspiration is very much from my surroundings in Emsworth, through landscapes and images of boats and water. However, I also spend as much time as possible when I am not sailing in Piemonte, Italy in the foothills of the Alps. This is in total contrast to Emsworth, being mountains, trees and the spectacular scenery of that part of Northern Italy.
In my compositions, I have tried to capture scenes that interest the visitor to Emsworth, not necessarily those of the sailor, as many visitors are not lucky enough to get out on the water on boats, and instead love the environment they create in the ever changing scenery of Chichester Harbour with its wide tidal range.
My aim is to continue to learn and develop, and hopefully my next project will continue to push me and my work forward.